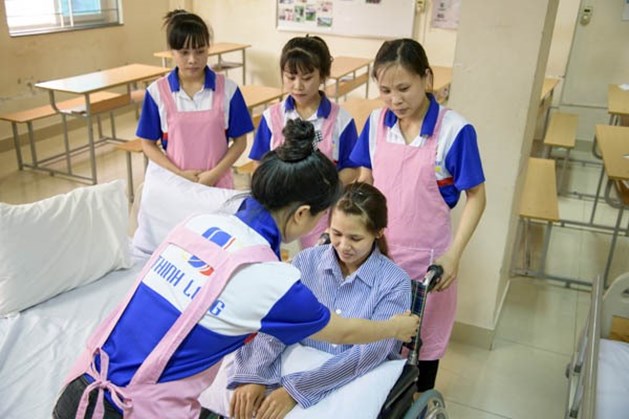 Training for management. Photo of Dan Sinh.
Recently, the Department of Overseas Labor Management (MOLISA) has approved six enterprises to be piloted internship practice in Japan.
Accordingly, six enterprises were sent internships for internships in Japan including LOD Human Resources Development JSC, CEO Service Development JSC, Human Resources Development Investment JSC. Hoang Long, TTLC Trade and Tourism Joint Stock Company, Thinh Long Investment & Trading JSC, JVS Corporation.
Accordingly, enterprises are only allowed to select those who have experience in doing business in accordance with Japanese regulations for training.
Specifically, the selection criteria must meet one of the following criteria: Persons with experience in daily life, supportive rehabilitation or rehabilitation at home or at home … for the elderly or persons with disabilities; Persons who have graduated from nursing courses or have nursing certificates granted by competent Vietnamese agencies; Persons who have received the attestation of attorney granted by a competent Vietnamese agency; Before leaving the country, they must have a Japanese level of N4 or equivalent.
The minimum wage is not lower than the Japanese do the same job. In addition, the cost of Japanese language training in Japan is fully supported by the Japanese side to ensure that trainees are at least N4 or equivalent before sending them to Japan. In addition, the Japanese union pays a management fee of at least JPY 10,000 per month.
The Overseas Labor Management Department will coordinate information with the Overseas Skills Trainee Organization (OTIT) so that the two sides can review and consider the possibility of stopping receiving dossiers on the sending of trainee interns. The number of trainees / trainees who have to go home after one year of entry or have a high rate of practicing trainees.
In addition, according to the special requirements of this program, trainee internships after 1 year of entry must have a level of Japanese N3 or equivalent to be eligible to continue to work.
Therefore, in order to avoid unnecessary incidents such as returning home after receiving service fees paid in Year 2 and Year 3, the Overseas Labor Management Department notifies the employee of the aspirations. Working in Japan under this program needs to clarify the service fee with the sending company right before signing the contract.
HOA LE